Adverset are immensely proud to have recently entered into a long-term partnership with Scarborough Athletic FC, sponsoring and naming their newly built stand.
Background
Just over six months ago, the club announced their plans for building a new 75-metre stand, to house 1,138 supporters.
Having watched the club grow and move into their new stadium in 2017, we at Adverset were thrilled at the prospect of becoming sponsors and naming the stand.
Following a smooth and efficient negotiation, the partnership became a reality. Part of our sponsorship involved installing our branding across the entire fascia of the stand, at a height of 10 metres with a span of an impressive 75 metres. Additionally, our branding was to be featured on two displays behind each goal, at a size of 5m x 1m and 2.5m x 1m respectively.
Implementation
Concept and planning
With the new season starting on August 17th, we had to work very quickly to design, print and install the signage.
We provided the club with our initial design visual showing the signage in situ, which was accepted and approved seamlessly.
Production
We designed the artwork so that our branding would achieve maximum impact across the pitch. The signage actually consisted of 26 boards, each measuring 3m in length so we needed to think carefully about the separation points to avoid joining through characters/letters.
The artwork was printed on di-bond aluminium panels, one of our best-selling products for exterior signage as it's a highly durable material and provides exceptional finish – both mandatory requirements as we wanted our branding to look sharp as well as withstand all weather types and impacts – especially the display panels behind each goal. The boards were then laminated to provide waterproofing. This process also prevents graphics from fading, guaranteeing UV protection for a minimum of 4 years.
Installation
High winds and rain hampered and delayed the installation, as we had to adhere to Health & Safety guidelines – especially considering the height we were working at. There was only a narrow walkway of 4 feet, into which we could fit and move the high access equipment, which was specifically employed for the purpose.
When fitting, extreme care needed to be taken on the joining points in order to align the characters and design perfectly.
Our team worked around the clock for 2 days, to ensure that the main elements of the signage were completed before the club's first match of the season.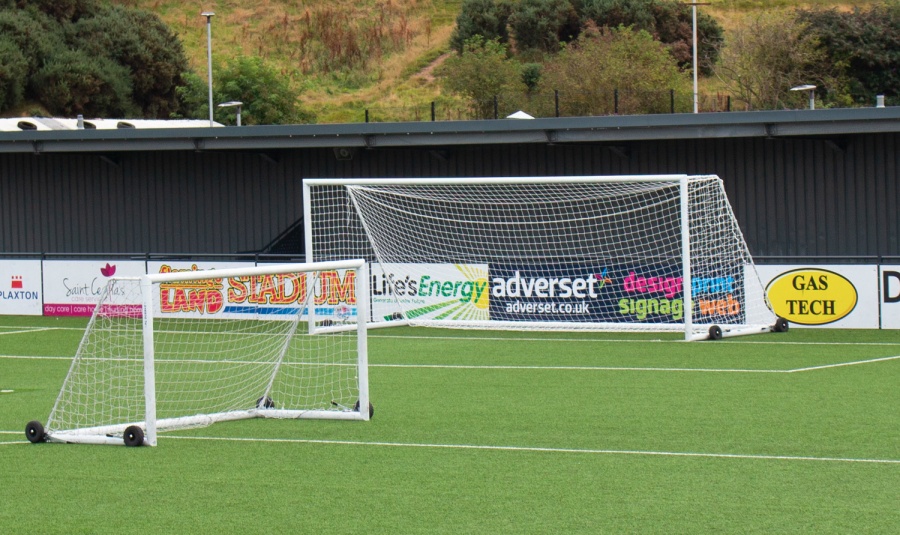 Results
The new stand represents a massive improvement for the Scarborough Athletic FC's Flamingo Land Stadium, while for us, having named the stand and committed to a long-term sponsorship, we aspire to raising the profile of our Adverset brand to a new level.
Commenting on our partnership, boro chairman Trevor Bull, said:
"It is great to have another hugely successful business and a local company as a partner. It was a pleasure to meet up with the team at Adverset and we look forward to having a company who shares our ambitions on board.
We rely on local businesses for support and this really is an exciting sponsorship deal for the club and the town.The new signage has really finished off the stand and brought it to life."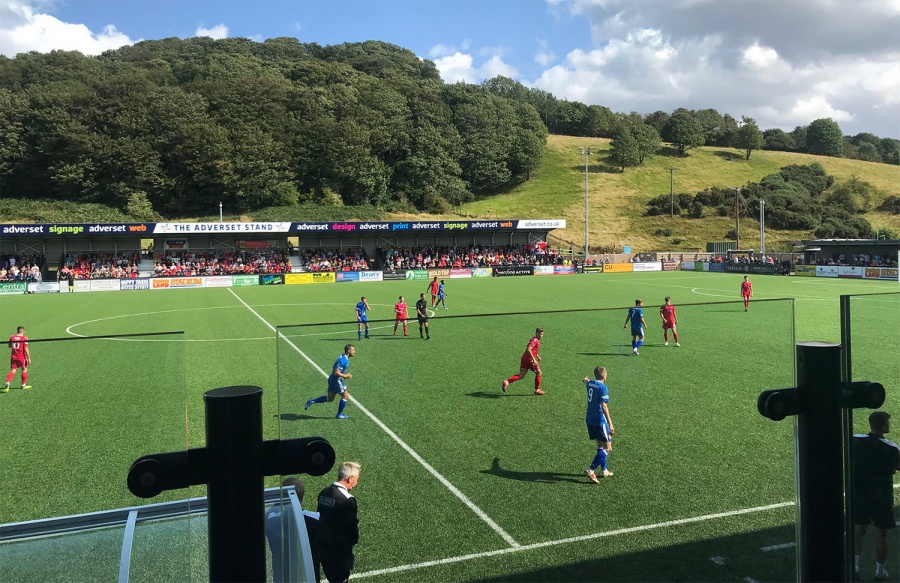 Official opening day
The Adverset stand was officially opened on Saturday, 17th August to an impressive crowd, with everyone in attendance complementing the new stand and its facilities.
Pictured below: Adverset staff at the opening ceremony and the Adverset stand viewed from the pitch. Photo courtesy of The Scarborough News