Latest News
We are constantly expanding our list of products and capabilities. Visit this page to read about new developments or equipment. Or simply to catch up with what's happening at adversetdisplay, including the latest tips for fitting or designing your display products.
5th April 2016
The adverset display team were on the road recently for a 3-day fitting project at Churchill Theatre Bromley. Exterior work will involve all awnings and canopies through the introduction of new HQ Theatre group branded signage. Interior work will include branding the ticket office area and installing...
» Read More
10th February 2016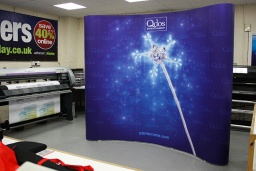 The fantastic display stand was used for the first time at the Qdos Entertainment 2015/16 end of season party at the Birmingham Hippodrome which took place following their performance of Aladdin on Thursday 25 of January 2016 "The stand's purpoose was to act as a background for press photography as...
» Read More