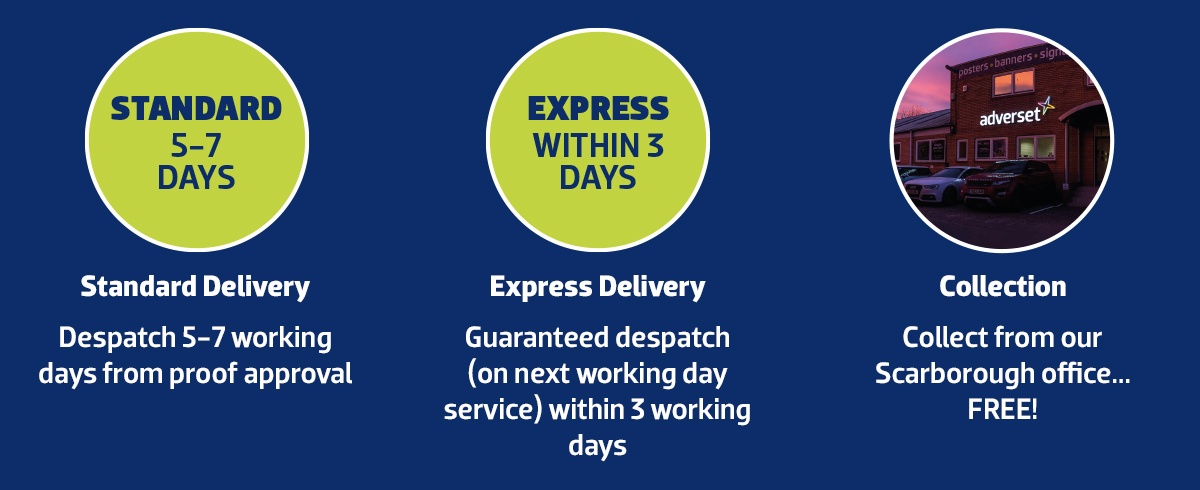 Standard Delivery
Despatch 5-7 working days from proof approval. Our working days are Monday to Friday. The standard delivery charge will be itemised on your order.
Express Delivery
Next day despatch within 3 working days from proof approval and cleared payment. This service carries a premium of 20% of your total order value, excluding VAT in addition to the standard delivery charge and will be itemised on your order.
*Please note we cannot 100% guarantee delivery and will not accept any liability for delays by couriers which are completely out of our control*
(Please note this option is not available on all products, Display boards, Twist stands and Acrylic panels for example).
Collection
Collect from our Scarborough office, free of charge.
ALL DELIVERY TIMES STATED WILL RUN FROM THE DATE OF ARTWORK PROOF APPROVAL.
All delivery prices are quoted based on UK Mainland delivery. If outside of this (NI, IOM, Highlands etc) please contact us.