2225mm(h), 2540mm(w), 685mm(d)
3 panel system – Our best-selling exhibition stand!
Sleek, curved design - maximum visual impact at your next exhibition!
Includes 2 x PS1000 floodlights
Comes complete with a robust, transportable carry case which doubles up as a counter* with elegant wooden beech top
Magnetic, clip-on, heavyweight display graphics for quick assembly
Anti-scratch laminated display graphics are completely interchangeable

* Optional graphic available for counter.
3x3 Exhibition Stands Get You Noticed
3x3 Pop up stands are primarily used for trade shows and exhibitions because they are so easy to transport and quick to assemble. The pop-up exhibition stands can also be used within your business premises to enhance your brand and create awareness of your marketing message.
3x3 Pop Up Stands Are Simple To Use
The 3x3 exhibition stand is our most popular sized exhibition stand, and includes all the features you need for an economical, stylish exhibition stand and is very easy to assemble thanks to the 'snap-up' magnetic frame and 'easy' clip-on display graphics.
This robust, transportable pop up stand isn't just for exhibitions however; it is a fantastic solution for enhancing your brand or marketing messages in a foyer or reception area. Our bestselling exhibition stand, with 3x3 exhibition stand printing included, the 3x3 Pop-Up Stand offers outstanding value for money!
Click Here to Order Replacement Graphics for your 3x3 Pop Up Exhibition Stand
Frequently Asked Questions
How big is each 3x3 exhibition stand?
The 3 x 3 Pop-up stand comes in at a width of 2540mm, and a whopping 2225mm height. A fantastic size for getting across any vital messages, or creating a statement with a vibrant image.
Should you require a different size or bundle offer, we have great deals on other popular sizes.
View all pop-up exhibition packages here
What's in the box?
A lightweight aluminium 'concertina' pop-up frame with magnetic panel fixings.
Your bespoke, anti-scratch, heavyweight printed graphics with magnetic fixings for easy setup.
2 x 'PS1000' floodlights – to illuminate your display stand.
Comes with a robust 'Hard-shell' case (not flimsy canvas, like some others provide) This then doubles up as a counter using the elegant wooden beech top, included in the price.
Are 3x3 Pop Up display stands easy to set up?
Yes, it has been tried and tested, at a steady pace, you can set up one of these display stands in under 10 minutes.
These modular exhibition stands are designed to be incredibly fast – from their concertina style pop-up frame, to their quick hang magnetic fixings for attaching the printed panels to the frame.
The 'flight' style transportation case also quickly becomes a counter with the addition of it's heavy duty beech wood top, and magnetic wraparound graphics.*
Do you offer replacement graphics?
Yes, we also offer replacement graphics for Pop-up exhibition stands, whether they are for units previously bought from us or elsewhere – we just need the dimensions of your current graphics and we will custom make a new set to fit your framework.
Why choose Adverset Display?
As a leading producer of Pop-up Exhibition Displays, we have been producing these products for many years.
All of our Pop up exhibition stands including this 3x3 pop up stand are printed in house, using the latest latex printing technology. They are built for longevity and are fully assembled and tested before dispatch.
Adverset Display also offer a super quick 3-day turnaround option for a small extra charge. So, should you secure a last minute spot at an exhibition – you will have your display stand delivered 3 working days from artwork approval.
*counter graphic panel available as an optional extra for £42
all prices are inclusive of VAT.
Whilst we can't send you a sample of an actual stand unit, we would be happy to supply material swatches for the graphic panels, if useful.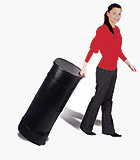 Erecting your pop-up stand is very straightforward. Here are a few easy steps:

1. Take out the main frame and pull up until it clicks into place (similar action to a clothes horse).
2. Take out the bag of magnetic strip bars and slot into the sections of the frame. They will click into place with ease.
3. Make sure you have an area of floor to work in. Locate the relevant graphic, which will be a corner piece. This will already attached to a hanger and will be fitted with magnetic strips on the reverse. Hang from the two slots located at the top of the corner section and let the graphic bend naturally. The magnets on the reverse of the graphic should snap into position. Repeat this for the centre panels which will be straight and then finish with the other corner piece.
4. Adjust the graphics if required by moving slightly on the hangers. There should be a small amount of adjustment available.
5. Attach the lights (see file on this under our download tab).
6. Fit the wooden counter top onto the carry case to convert into a counter. Attach the graphic around the counter (if applicable), secure at the back with the double sided velcro which will already be fitted.

You're ready to go!

Reverse the procedure to dismantle, taking care to roll the graphics up carefully - always roll with magnets on the inside, image to the outside.