Sandburn Hall is a luxury 40 bedroomed, brand new build hotel close to York, set in it's own grounds, with adjoining golf course and restaurant. The hotel has been designed and built featuring fine oak beams and open plan glass façade. The two feature suites – The York Suite and The Alderney Suite boast fantastic views to the grounds and lakes.
We were delighted to be entrusted with the design and production of both the interior and exterior signage, as follows:
External wayfinding signage
The venue comprises of multiple facilities including a restaurant, wedding hall, conferences centre, restaurant, sports bar and a 6700 yard golf course, with numerous parking areas.

It was therefore essential to develop a wayfinding sign scheme along with the customer, which we designed to complement the existing branding and help guests navigate their way from the A64 road towards the hotel and within its grounds. All exterior signage was produced on dibond aluminium composite panels.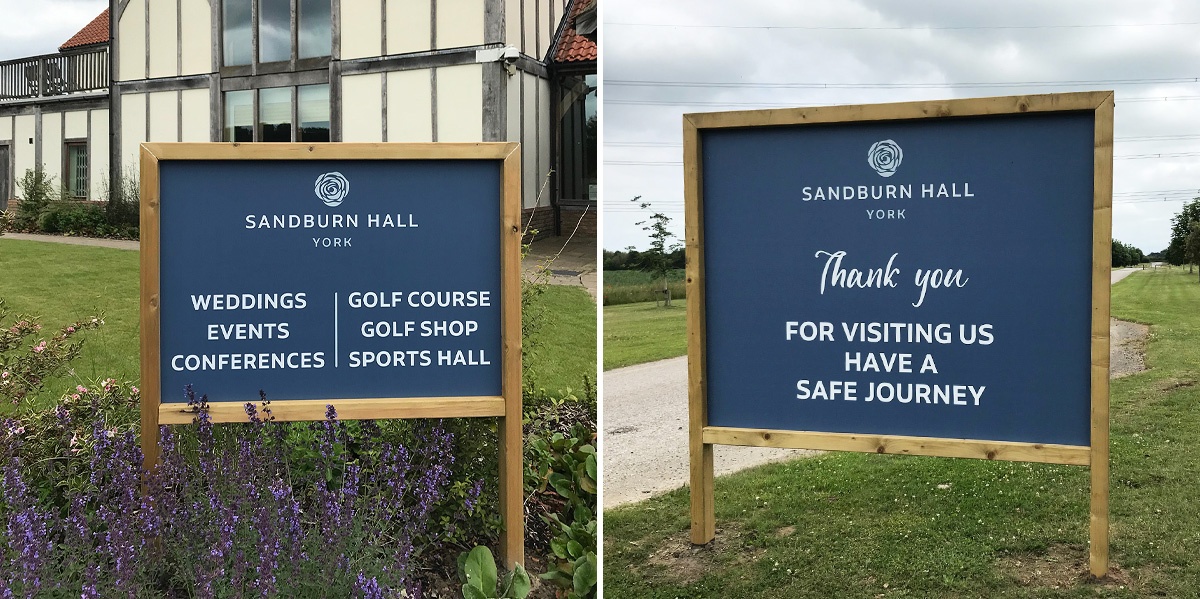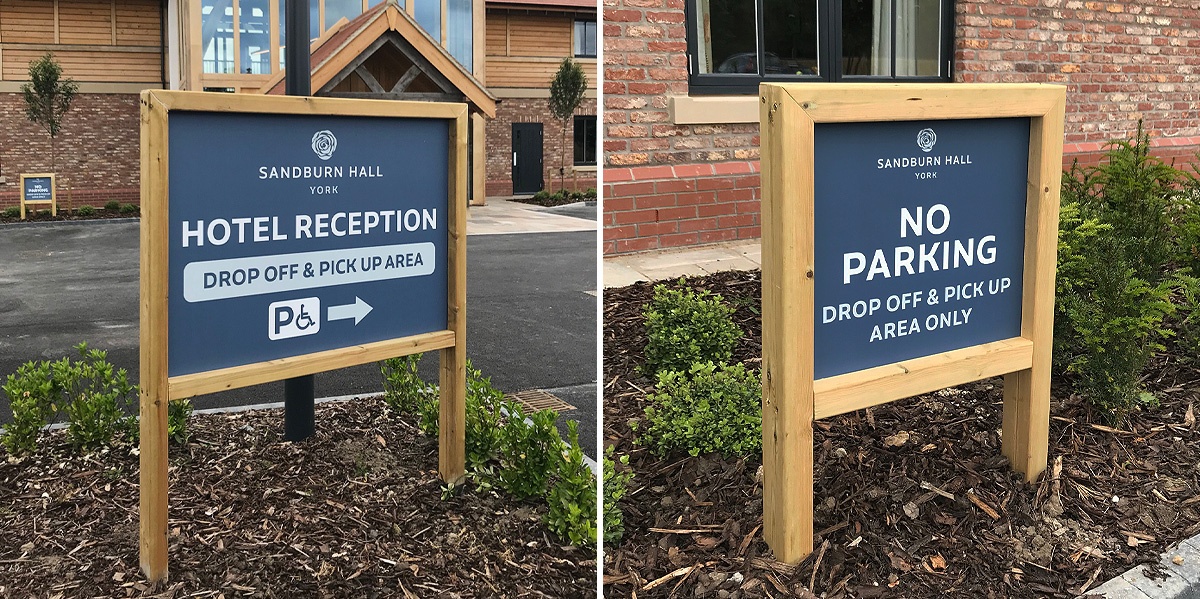 Golf facilities signage
With the golf club open to the general public, both directional and informative signs were needed throughout the facilities. The customer required a solution for the main sign to include a changeable 'OPEN/CLOSED' slot feature, to inform customers of the current status of the golf course regarding the weather. This was built and added using an additional open top 'three quarter frame'. Individual panels then easily slot in and changeover to show the relevant status.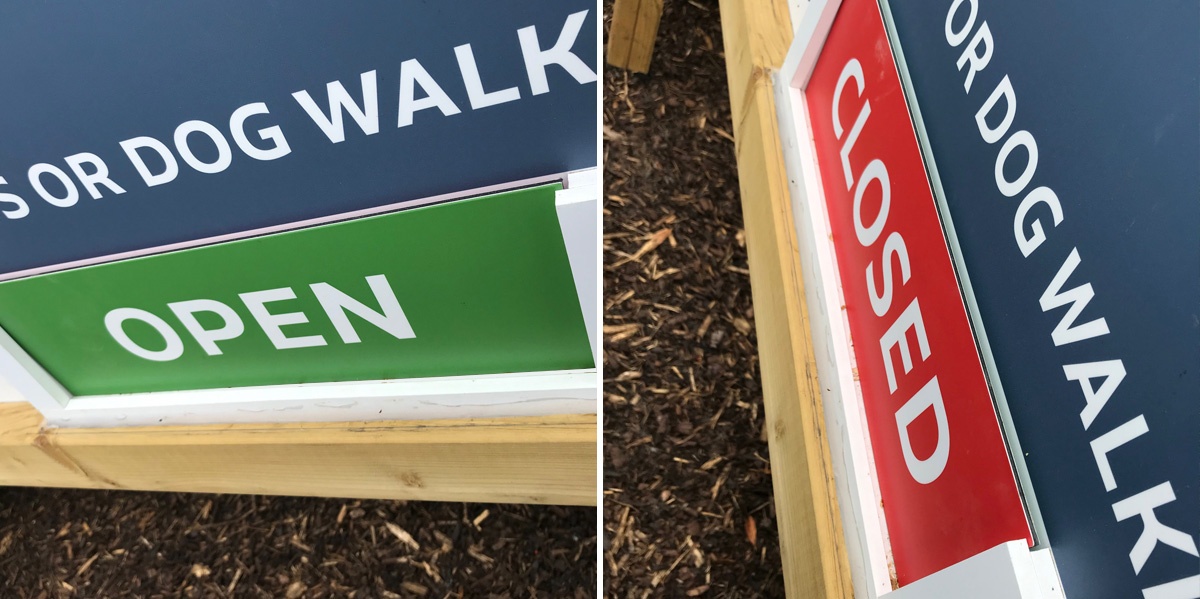 Interior signage
In order to establish the internal directional signage style, positions and content, we suggested a full walk-round with the client. The design of the signage was put forward and subsequently approved by the renowned Yorkshire-based interior design company Rachel McLane, involved with the project. The artwork was created, following the Sandburn new branding guidelines. Upon artwork approval, the main signs were produced using 5mm black foamex faced with matt laminated vinyl, and stood off the wall, using 13mm chrome satin raisers.
The signs in the lift areas were produced on laminated vinyl and fixed directly to the stainless steel surrounds.
The result was a total of 32 directional signs.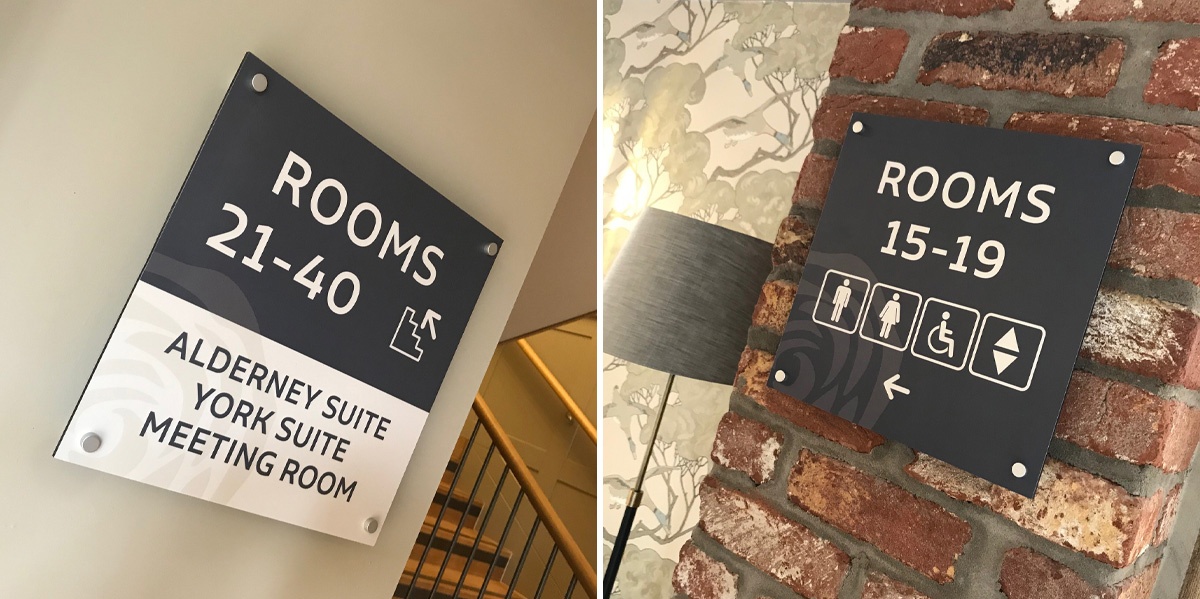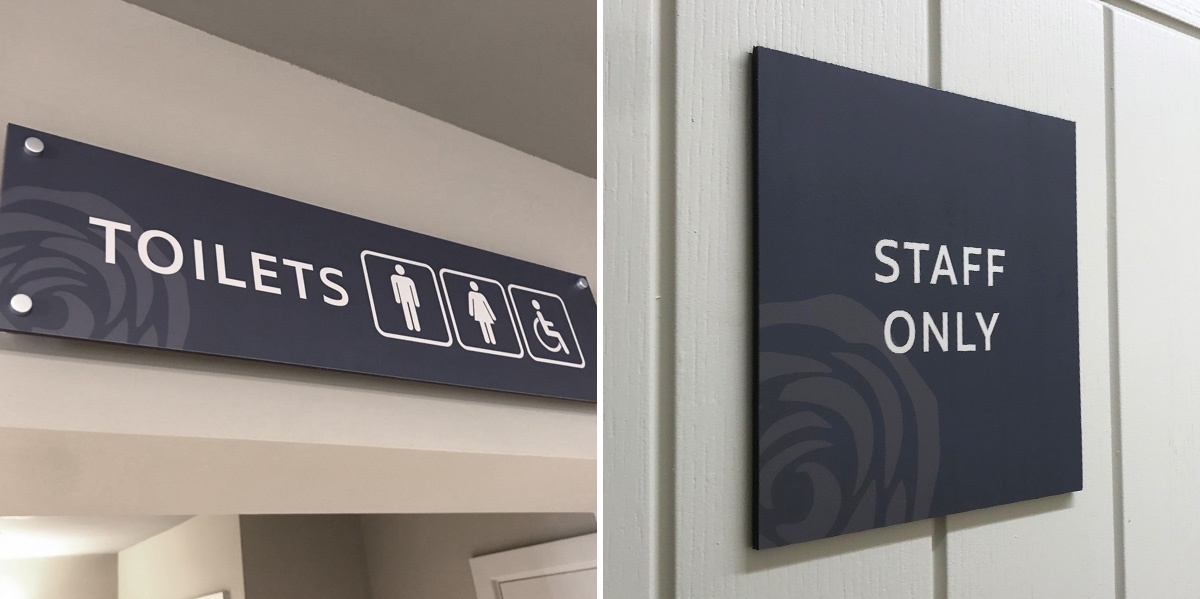 Feature map wallpapers
The customer is a 'map enthusiast' and as such was interested in us producing a series of feature map wallpapers for each hotel stairwell. We created artwork for three 'Ordnance Survey style' maps, featuring local and regional areas. We also specially designed a Sandburn Hall hotel icon which was added to the maps as a 'branded waypoint'. The maps were printed on textured wallcovering material and fitted on site.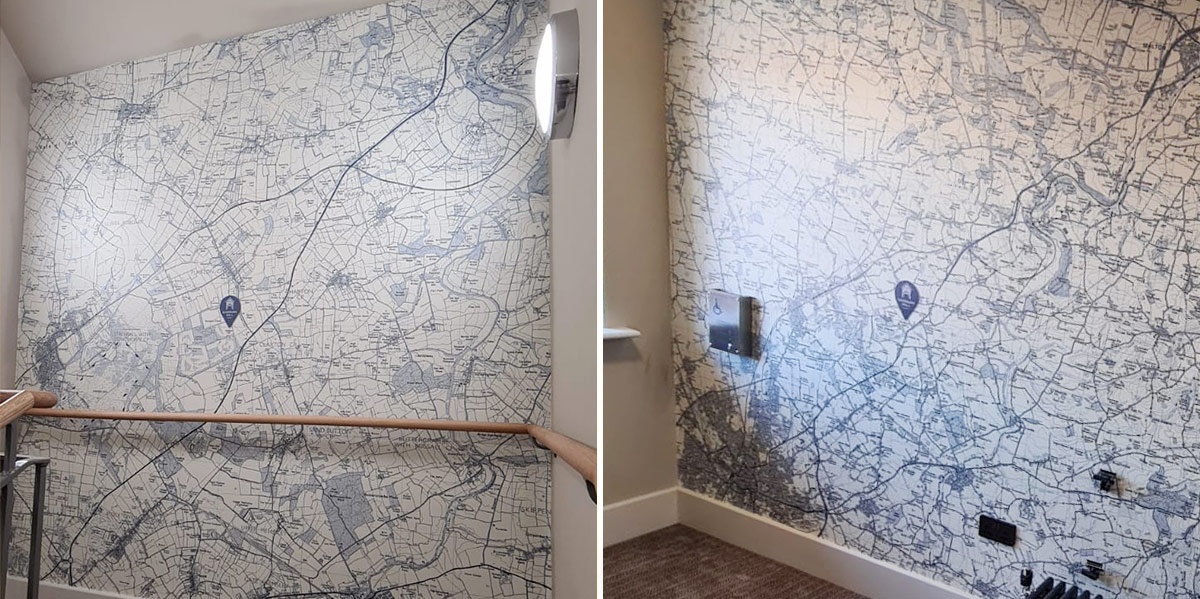 Hotel entrance door vinyl stickers
Emergency signs were redesigned to be in keeping with the hotel branding, printed and fitted on site using laminated vinyl.