Wall Mounting Display Panels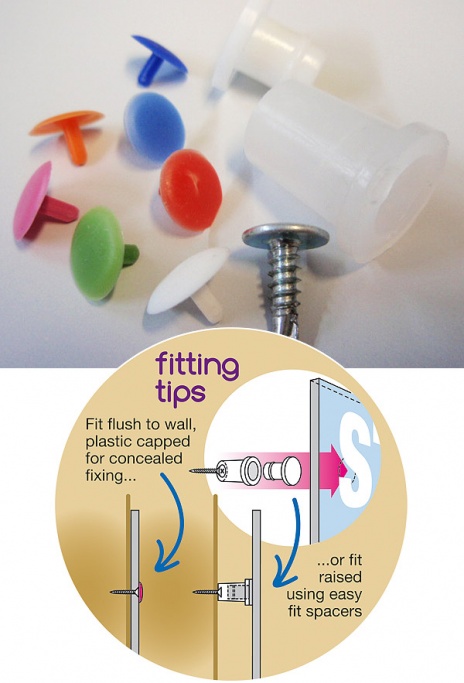 There are two standard methods for fitting foamex panels:

1. INTERIOR DISPAY BOARD MOUNTING
We can provide stud locators to create a 'raised' effect when fixing display panels to an interior wall or surface. The fixings are also concealed at the rear, giving a smart result.
The locators consist of a male and female part. The female piece is screwed to the wall and the male section is stuck to the rear of the display. The male then 'snaps' into the female locator on the wall, raising the display off the wall, which is very effective.
TIP: Stick the male part of the locator to the board first and dab the centre of the end of the locator with a transferable marking such as chalk or marker pen. Hold the display in the desired position on the wall and press where the fixings are. The marks left on the wall will indicate where you need to drill and fix the female part.
Purchasing locators
When purchasing your display panels on-line you can choose to order a set of locators with the panel at a small additional cost. Alternatively they can be purchased at a DIY outlet or picture framing store, but you will more than likely pay more this way.
2. EXTERIOR FIXING
For outdoor signage fitting to a wall or flat surface we recommend drilling and screwing - we can supply screw fixings with matching weatherproof coloured 'caps' which conceal the fixings. These are available in a variety of colours in order to blend in with the design.
TIP: Always drill the panel and the surface together for best results
Purchasing screw fixings
When you choose coloured caps and screw fixings with your order, our team will automatically send you a selection of colours relating to the colours of your specific display, the idea being that the fixings will not be visible.
Important: A minimum of 6mm is the thickness we recommend for exterior use of foamex panels.