St Catherines Tree of Life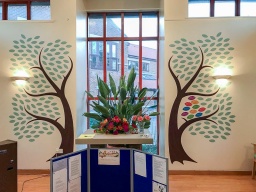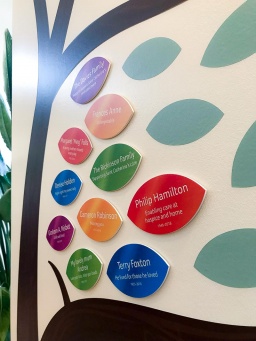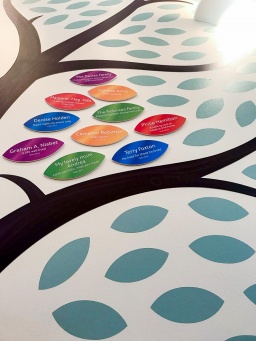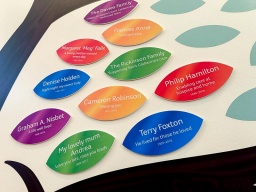 Adverset were recently proud to be asked to develop the concept for signage to represent a 'Tree of Life', to be sited within the Chapel and quiet Room area at Saint Catherine's Hospice, Scarborough. The fundraising concept was centred around 'loose leaves', each one of which would carry a personal message relating to their support for Saint Catherine's or their deceased loved ones, which would, in turn, raise funds for Saint Catherine's on a month-by-month subscription basis.
'We had to find a way of creating an attention-grabbing, but subtle, wall-based tree display, whereby leaves could be added, moved and taken away with a minimum of fuss and cost, in order to maximise the impact of the fundraising', said John Easby, Managing Director.
After producing design visuals of the tree and leaf silhouettes in situ and gaining approval, the artwork was printed as a CAD cut laminated decal, which was applied to the wall. This background image served as a template to apply the leaves to, as and when new ones were booked. After much thought and discussion, it was decided to make the leaves out of 3mm lightweight foamex. The colourways of the leaves were developed out of the hospice branding/logo, which adverset also recently developed and are designed to form a bright contrast against the decal leaf silhouettes.
Each leaf is attached using double sided Velcro, to allow the leaves to be moved, repositioned or taken off the display.
'We are very proud of the results', said John Easby. 'Both from a practical perspective and the fact that the display is extremely attractive – we wish the Saint Catherine's all the best in their fundraising efforts from the Tree of Life and thank them for supporting our concept'.
Please contact Fran Kitson at the Hospice, should you be interested in sponsoring a 'leaf' – Richard.barwick@saintcatherines.org.uk