Giant 1.5m x 10m Vinyl Banners for Infotone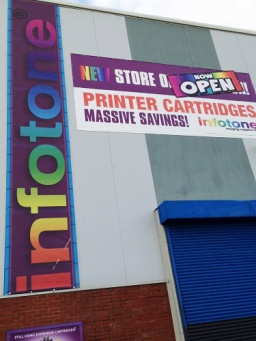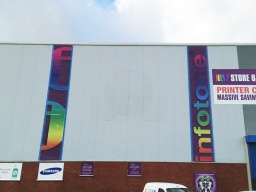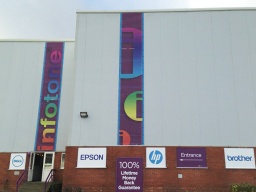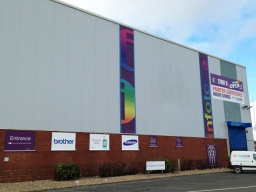 We were delighted to recently be asked to produce 5 giant vinyl banners for a local manufacturer and supplier of printer cartridges, Infotone.
Each banner measured 1.5m x 10m and looks mighty impressive to the passing traffic at Infotone's new 25,000sqft premises on Cayton Low Road, Scarborough.
The guys had to hire a cherry picker for the day to secure the banners to their building, and have done a really neat job of hiding some existing windows which they didn't want exposed.
You will see from the other pics we have also produced numerous Foamex signs for their new building, with both directional signage and brand name boards being on display. Foamex was chosen due to its ability to stand upto the elements, with a 4 year guarantee against weathering/ink fade.
According to Jamie Hughes (Managing Director of Infotone):
"Talk about the WOW factor! It's incredible the amount of feedback we've had from customers – old and new, the banners look amazing thank you and a huge thanks to all the team at Adverset for the brilliant service."