15 metre banner supporting Tour de Yorkshire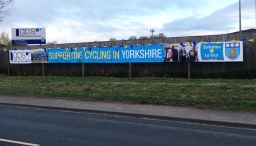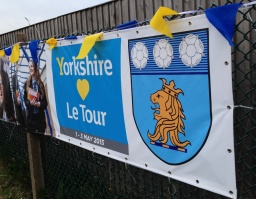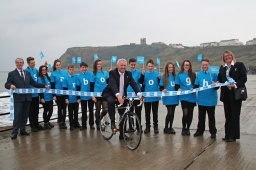 George Pindar School in Scarborough were particularly keen to support 'Le Tour' and promptly ordered a 15 metre vinyl banner from adverset display...
The race literally passes by the school sports field perimeter at approx. 12.45pm on Friday 1 May and the marketing team at GPS deemed this as a great opportunity to celebrate the event by way of a supporting display.
Through a series of photographic initiatives involving pupils, the school have been promoting the race for the last few months, as seen here pictured with the former Mayor of Scarborough, Councillor Andrew Backhouse. GPS were therefore delighted to be in pole position for the event.
The school intend to use the banner within the school hall once the event is over.
The banner was printed using our HP Latex 1600mm wide format printer, which provides an extremely durable 'cured' finish onto a 500g superior banner material. The customer made a specific request for eyelets at 200mm intervals, which meant a total of 160 eyelets in all.
Find out more about our vinyl and mesh banner products
Find out more about George Pindar School, Scarborough